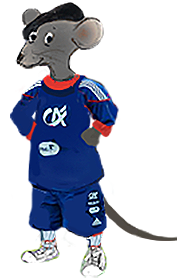 Bonjour!
My name is Louie LaSurie.
You may know me as the "World Cup Mouse." Welcome to the website of my good friend, Richard Seidman. Richard writes books for kids and screenplays for family films. Like it says at the top, he believes the whole world is magic. I'm not sure about that. I tend to be skeptical. But on the other hand, I have to admit that a soccer-playing mouse like me is kind of unusual, so maybe he's right. World Cup Mouse is my favorite book of Richard's.
He also wrote The Secret of Ebbets Field. It's about a boy's search for a magic treasure he thinks is hidden somewhere in the Ebbets Field baseball park. My Brother the Mouse is about a girl who accidentally turns her brother into a mouse with a magic spell. (I think I might have met him once.)
To learn more about these books, click on the "Richard's Books" link at the top of the page. You can find out more about Richard himself by reading the interview my best friend, François DuBois, did with him recently. Just click on the "About Richard" link above.
Richard has also created a series of funny sports joke books. Check out Mr. McFunny's Sports Joke Books for Kids here.