MR. MCFUNNY'S JOKE BOOKS FOR KIDS
Hello fans of sports, jokes, riddles, pun, and all around silliness!
I, Maximillian McFunny, am your guide to sports jokes, riddles, puns, and limericks in this series of funny books for young athletes and comedians.
For example,
Q. Why did the player carry string when she was subbed into the game?
A. So she could tie the match!
For a limited time, you can get the ebook version of Mr. McFunny's Soccer Jokes for Kids for free! Just go to My Free McFunny Ebook.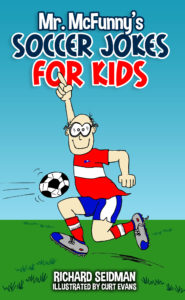 And you can buy Mr. McFunny's Summer Olympics Jokes for Kids here.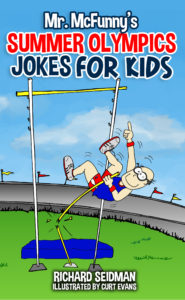 Here's a funny from the Olympics book:
Q: Why did people fall down a lot at the first Olympics?
A. Because it was held in grease
.
Who are the members of Team McFunny?
In addition to creating the Mr. McFunny books, author Richard Seidman wrote World Cup Mouse and several screenplays for family films. He lives in Ashland, Oregon, USA with his wife and chickens and many stuffed animals.
Illustrator, Curt Evans, started cartooning as a kid…and never stopped. His drawings have appeared in books, on the sides of city buses, and on more than a hundred T-shirt designs.
Maximillian McFunny, known as "Mr. McFunny" to his friends, is a compiler of jokes, riddles, puns, and limericks on sports and other subjects such as toilet bowls. He lives in the state of Imagination along with his many pets and his wife, Mrs. McFunny.